The Rolex Daytona History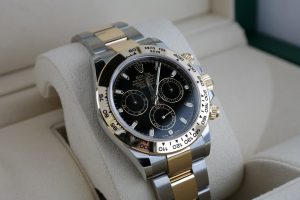 The Rolex Daytona model received its prestigious affiliation with the Daytona automobile race in 1962, during which Rolex served as the official timekeeper of the race. In anticipation for Rolex's debut, they launched the Cosmograph Reference 6239, nicknamed the "Daytona." The Rolex Daytona was specifically crafted for race car drivers because it has a prominent tachymeter scale (numerical scale to be used with the second hand to determine speed over a set distance) engraved on the bezel. Though this was the first official link between the luxury watch and car racing, the Rolex had long before had a track record with racing. Organized car racing started in 1902 along the sandy beach of Daytona, Florida. One of the most successful drivers was Englishman Sir Malcolm Campbell who was an avid Rolex wearer both on and off the course. Campbell's choice watch was Rolex's Chronograph oyster bracelet which he faithfully wore during his competitions, including the 1930 race where he broke the world record for fastest land speed. After this monumental victory, Campbell sent a Thank-You note to Rolex expressing his admiration for the great durability for the timepiece. The Rolex Daytona received another prominent racing endorsement by the renowned actor Paul Newman. Though Newman is best known for his superb acting career, he had a passion for race car driving. Similar to Campbell, Newman faithfully wore the Rolex Daytona during his races. As his popularity grew both on and off of the track, collectors began referring to the Daytona as the "Paul Newman," a namesake which remains to this day. Newman's specific Daytona had a white dial with black counters and the large characteristic tachymeter in an Art eco style.
Daytona Mechanisms and Features
Originally, Rolex Daytona's had a hand-wound Valjoux Caliper 72 mechanism. Rolex crafted this caliper with tailored shock-absorbers to accommodate for the turbulent force of racing. The caliper was made in large series so that replacement parts could be readily found and swapped in the timepiece. Unfortunately this manufacturing convenience has enabled counterfeiters to swap out factory-made parts for after-market parts, so we encourage Daytona's to be purchased from reputable dealers and watch experts. In 1965, Rolex released an improved Daytona model (Reference 6240) with screw-in push buttons to effectively seal the watch's case, giving it an equivalent durability to the Oyster models, which do not have the stopwatch capability. This model featured a black bezel with an acrylic inlay. Solely in year 1970, Rolex debuted the Daytona model (Reference 6262) which sported an
engraved steel bezel and a modified internal movement that raised the Valjoux caliper's frequency from 18,000 to 21,600 vph to increase accuracy. This improved movement was then used for the next two years in Daytona production but now housed under Reference 6264. Hand-wound movements continued to be the Daytona standard until 1988, spanning Reference numbers of 6263 and 6265. In 1988, Rolex perfected Zenith's El Primero quartz movement such that they successfully aired a self-winding Daytona (4030). This technological breakthrough slowed the movement's frequency (36,000 to 28,800 vph) to increase the timepiece's power reserve and prolong the need for servicing. This watch was a hit! Rolex lovers wanting to purchase the new Daytona
could experience wait lists of up to three years.
More recently in 2000, Rolex announced the first in-house movement Daytona model (Caliper 4130), which is still used in today's Daytona timepieces. The Caliper 4130 has 44 jewels, a 72- hour power reserve, column wheel switching (an upright, notched wheel that rotates to operate the different levers turning the stop-watch on and off), and a Kif shock absorbing technology (which enhances balance and protects the escape wheel). The elapsed-seconds hand uses vertical coupling for a quick start.As with all Rolex models, Daytona's are crafted in stainless steel as well as solid gold – yellow, rose or white. To commemorate the 50th anniversary of the Daytona Model, Rolex debuted a platinum edition in 2013 with a brown ceramic bezel. Most recently (in 2016) Rolex has manufactured cerachrom bezels, which is a proprietary material of the Swiss time makers. Prices of the Rolex Daytona vary as a function or condition, era, material, originality and the presence of box and papers as given from Rolex.
Celebrities who Sport the Rolex Daytona
Throughout it's 50+ year history, the Rolex's Daytona model has sparked technological advancements in keeping pace with the sport of racing. Though the timepiece is most closely associated with the automotive world, the classic watch can be found on notable athletes,actors, singers, celebrities, and the like.
• Sir Malcolm Campbell
• Paul Newman
• Victoria Beckham
• Jay Z (Shawn Carter)
• Jonah Hill
• Antoine Griezmann
• Rosie Huntington-Whiteley
• Michael Jordan
• John Legend
• Elle Macpherson
• Michael Strahan
• Sofia Vergara
• John Mayer
• Kevin Hart
• Adam Levine
• Ellen Degener