History of the Rolex Submariner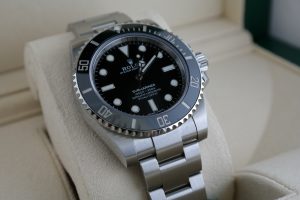 The first Rolex Submariner debuted in 1954 at the Basel Fair, however Rolex had been striving to waterproof their timepieces from nearly their inception in the early 1900s. Prior to the Submariner's release, Rolex had designed the iconic Oyster case (1926) and the self-winding Perpetual movement (1931). Rolex watches were most popular among aristocratic women due to their delicate inner workings, hence too fragile for the robust lifestyle and activities of gentlemen. To enter the broader timepiece market, Rolex strived to construct a durable watch which not only would keep accurate time, but could have additional capabilities and withstand the hustle of recreational activities. The inspiration for the Submariner came in the form ofScuba Diving. Scuba diving as a recreational activity is often accredited to the underwater scientist Frenchman Jacques Cousteau. Cousteau, a Naval officer from World War II, partnered with Emile Gagnan to design the first underwater air tank called the Aqua-Lung circa 1942. Equipped with this device, Cousteau began filming and producing films from the underwater world which inspired the population to explore this new frontier. But with new terrain came new needs: a timepiece that could withstand immersion so that divers could track their immersion time. Though the Oyster case was streamline and sturdy, the Crown could allow water into the inner mechanisms, bringing time to a halt. Shortly after the development of the waterproof Fifty Fathoms timepiece, Rolex constructed a new winding crown system, called the Twinlock crown, allowing the watch to remain airtight
down to 100 meters. Rather than fitting a crown winding into a tube with a gasket seal, Rolex created a mechanism consisting of two sets of O-rings which formed a watertight seal. The timepiece was a huge success and began a decade of Submariner models, each with slight improvements and modifications. In 1959, the Rolex Submariner model (Reference 5512) reached a climax of engineering and aesthetics which remained nearly identical for the next 50 years. This Submariner was constructed with a 40 mm case, Mercedes style hands, a bezel marked with 60 minutes, a bezel with unidirectional movement (so that it could not accidentally be moved underwater), and crown guards. Rolex continued to make Reference 5512 up until 1980 and a non-COSC model (i.e. a watch without the chronometer certification) with Reference 5513 till 1989.
The Rolex Submariner Date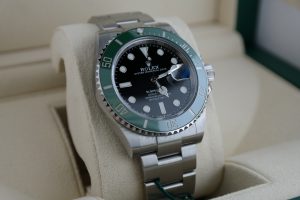 In 1969, Rolex launched a Submariner with a Date system under Reference 1680. Given it's popularity amongst divers and non-divers alike, Rolex began to construct luxury Submariners in precious medals such as solid yellow gold. They also fashioned the first colored dial in Royal Blue, rather than the classic black with gilt or honeycomb texture. In 2003, to commemorate the 50th Anniversary, Rolex released a new stainless steel model
(Reference 16610LV. The LV was shorthand for "Lunette Verte" meaning green bezel in French. Famous for their colored, customizable dials, this green enhancement was a monumental success on the luxury diving watch. Collectors and Rolex aficionados commonly refer to this
model as the Kermit. More modern improvements on Submariners (1166xx) include cerachrom bezels and the creation of a Super Case model, which retained the same dimensions but had thicker lugs and crown guards. The Super Case was met with mixed reviews so in 2020 Rolex aired the new
Submariner (Reference 1266xx) which softened the Super Case's enhancements, mimicking the streamline profile of the earlier designs, and the re-engineered Cal. 3235 inner mechanisms. #274653
Celebrities Wearing the Rolex Submariner. Regarded as the toughest diving watch, the Rolex Submariner has become quite a fashion
piece. 
Notable celebrities sporting this luxury timepiece include:
 • Sean Connery (James Bond 007)
 • Roger Moore (James Bond 007)
 • Steve McQueen
 • Orlando Bloom
 • Sly Stallone
 • Mark Wahlberg 
• Luke Wilson
 • Ellen DeGeneres
 • John Mayer
 • Jack Black 
• Nick Jonas 
• Brad Pitt
 • Cara Delevigne 
• Robert Downey Jr 
• Matt Le Blanc
 • Queen Latifah
 • Russell Wilson 
• Tom Hardy
 • Bruce Springsteen