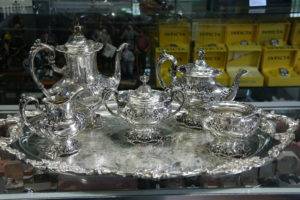 We are always looking to purchase any silver bullion whether it is rounds, bars, coins, or junk silver. Any American or foreign silver coinage is always wanted.
Have a bunch of old silver jewelry lying around? Why not turn it into cash? We buy silver necklaces, ring, bracelets, earrings, brooches, and necklaces broken or not. Stop in and let our Jewelry experts appraise your silver jewelry collection and make you an offer on your unwanted jewelry.
We trade silver bullion daily. Whether you are looking to buy or sell silver bars, coins, rounds, or junk silver we have all these items in stock always. If there is a particular item you are looking for, please contact us and let one of our trained professionals attempt to locate it for you if we do not have it in stock at the time.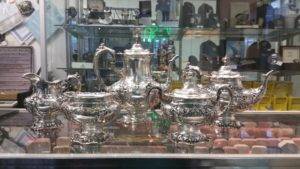 We are looking to buy all sterling silver holloware including tea sets, serving dishes, cups, and candlestick holders. Please note all silver holloware is not sterling silver, There is a large portion that is silver plated. Look for the manufacturer mark on your items and look it up online to determine if it is sterling or plated. Most sterling silver items will have .925 or .900 stamped on it.
We are also looking for sterling silver flatware in every pattern. We are looking for knifes, forks, spoons, and all serving utensils. Please note all flatware is not sterling silver. Look for the manufacturer mark or the .925 or .900 stamp. 
We will buy any item made of silver. So if you have some unusual silver items you would like to sell bring them in we would love to see it.