Sell us your Diamond in Houston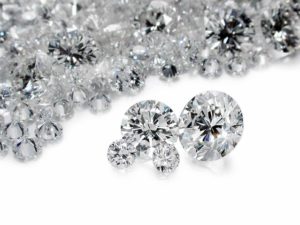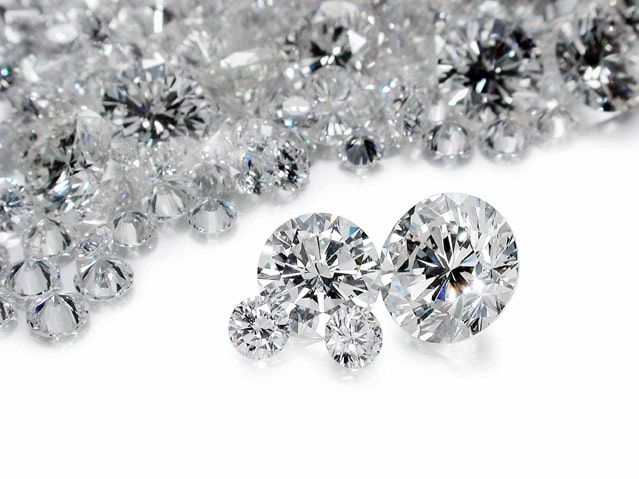 So many reasons may come up that make you want to Sell Your Diamond in Houston. Maybe you decided to upgrade your diamond. Maybe you just got divorced. While marriage is not always forever the value of a diamond is. Why not turn that unworn diamond jewelry into cash you can use for other expenses. At Ace Watch Estate Watch and Jewelry Buyers we are looking to buy all cuts of diamonds. We buy round brilliant cuts, marquise, pear shaped, emerald cut, heart shaped, princess cut, and asscher cuts. We are always looking to purchase large G.I.A. certified diamonds. We offer immediate payment for all diamond purchases. Why wait to get paid? We buy all types of diamond jewelry. We are looking for diamond necklaces and pendant, diamond rings and engagement rings, diamond earrings and diamond bracelets. We have been buying diamond jewelry in Houston since 1993 and are one of the top diamond buyers in the greater Houston Area. We are located at 1330 Westheimer Rd, near Montrose Blvd just minutes from the Galleria. Our showroom is easy to access from every major highway. Stop into our showroom today and let our diamond experts appraise your diamond jewelry and make you a fair honest offer to buy your unwanted diamond jewelry. No appointment necessary, just drive up to our front door and walk right in. Walk-ins are always welcome. 
What Do I need to do to get a price if i want to sell you my Diamond?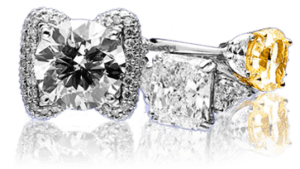 In our opinion the best way to start is to bring your diamond into our showroom. We Want to Buy your Diamond in Houston. While we make every attempt to make a offer over the phone, when it comes to diamonds it is always better to see the diamonds first hand. At best a phone quote is an estimated amount. The reason is there are many factors with a diamond that can effect the price. Everyone knows the price of diamonds are based off the 4 C's. Cut, Color, Clarity and Carat weight. However diamonds are affected by wear and tear just like anything else.A diamond can become chipped or even cracked during normal wear which will effect the price if the stone needs to be recut. When you recut a diamond it looses some of the carat weight. This sometimes does not reduce the value of the stone as much as you would think if the cut actually improves. Is your diamond G.I.A. certified? This actually adds some value to your diamond since this report tells us everything we need to know about it and has a certification number engraved on the diamond itself. Another thing we suggest is to get multiple offers on your diamond. While we will meet or beat any legitimate offer we like for our customers to have multiple offers so they have an accurate understanding of the value of your diamond. Having too much information is always better than not enough. You never hear someone say " I have too much knowledge on that subject". The owner suggests coming in and spending 15 minutes with us. We will teach you what to look for when buying or selling diamonds. It's not hard. Diamond grading  honestly is not that difficult. The owner is more than happy to teach you how to make an informed purchase. 15 minutes is worth your time to save possibly 1000s of dollars when buying or selling a diamond.
I have a jewelry appraisal but none of the offers i have received are even close to that amount. Why?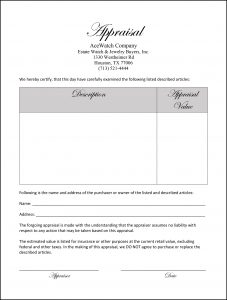 This is a question we answer on a daily basis. There is a lot of confusion caused by jewelry appraisals so let's clear that up. Jewelry appraisals are meant for your insurance company to cover the "replacement cost" of  your diamond if it is lost or stolen. So why is the appraisal so much higher than what you actually paid for the diamond. No one is going to take their diamond to get it appraised every year to keep up with inflation costs. So when an appraiser its calculating the replacement cost they tend to include full retail price plus an estimated replacement value to include inflation value for up to approximately 10 years. Insurance appraisals also provide  pictures of the diamonds and full details like metal quality, designer, style of jewelry,( i.e. ring, earrings, necklace ect.) and quality of your diamonds or gemstones for detailed information in case your diamond is lost or stolen. This way you only have to have your diamond re-appraised about every 10 years which is much more reasonable. However the problem this causes is it gives people an unrealistic impression of what their diamond is actually worth. Another thing that can confuse a consumer about the true value of their diamond is if it was purchased at a "large chain store". We all know who these stores are. One of them provides a pretty blue box. The problem is they have an extremely high mark up and you could end up paying up to double what the diamond is actually worth compared to if you bought it from an independent local jeweler. After all, all that advertising and "brand recognition" has to get paid somehow. One thing to consider is the jeweler purchasing your diamond has to make a living as well so don't expect full retail or even the full sale price you paid for the diamond. I know a lot of people are thinking "Wow don't you think this will scare people away from selling to you?" Not at all. Why? Because we don't hide the way we do business. We are honest, upfront, and 100% transparent. We are not going to try to hide aspects of our buying process. We want our customers to be at ease and understand the process. An informed customer is a happy customer. Just look at our reviews.  If you have any questions about our process or policies just ask. We are happy to address any concerns you may have. Just because the appraisal has an inflated value doesn't it has no value. Please bring all appraisals and certifications you have to help with the selling process. Every bit of information you have will help us better understand your diamond and make you a much more fair offer.
Overall rating:
★★★★★

based on

43

reviews