Brief History of the Rolex President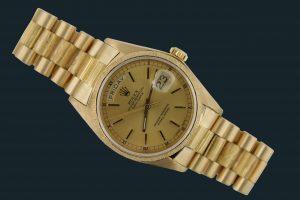 The Rolex President was introduced in 1956 as Rolex's signature luxury timepiece and has remained the brand's signature watch. The Rolex President is a Day-Date model made in solid 18k gold and was the first watch to display the day of the week at the 12 o'clock position (written in full) and the date at the 3 o'clock location. In addition, the Rolex President was the first waterproof and self-winding chronometer timepiece.
The hallmark of the Rolex President is the elegant bracelet band, typically crafted in precious metals such as 18k gold or platinum. The bracelet is composed of a three-piece semi-circular links making for a comfortable fit and a timeless design.
Throughout the years, Rolex has made Day-Date President models with slight modifications and incremental enhancements
Defining Features, Sizes and Details of the Rolex President
As the name describes, the Rolex President displays the written weekday at the 12 o'clock position and the numeric date at the 3 o'clock location. It features a streamline oyster case and is solely composed of precious metals – yellow gold, rose gold, white gold or platinum. The distinguishing feature of the Presidential is the sleek three-piece semi-circular link bracelet band.
As for sizes, the gentleman's Rolex President has been made as a 36mm, a 40mm and a 41mm which is currently discontinued. For ladies, the Rolex President can be purchased in a 26mm and a 31mm. The bezels can include the fluted bezel, smooth bezels or diamond-set bezels. The dials are available in different colors, all of which having the two calendar windows for the day and date settings.
Prices for the Rolex President vary based on condition, model, collectability and with the presence of the original box and paperwork as presented by the Rolex dealership.
Celebrities Wearing the Rolex President
 As described above, the Rolex President became Rolex's iconic timepiece and is still regarded as a symbol of success today. Worn by presidents, diplomats, professional athletes and celebrities, the Rolex President is a powerful statement timepiece for both men and women. Famous fans of the elegant Rolex President include:
President Lyndon B. Johnson
President John F. Kennedy
President Richard Nixon
President Gerald Ford
President Ronald Reagan
President Donald Trump
Michael Jordan
Jack Nicklaus
Warren Buffett
Justin Bieber
Aziz Ansari
Victoria Beckham
Bruno Mars
Jay Z
Tony Soprano
Nicolas Cage
Brad Pitt